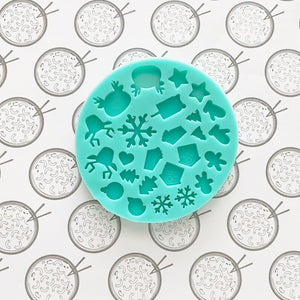 No defect, it's just after Christmas 
This is a silicone mold for resin casting and crafts. It is reusable, durable, and made from platinum cure silicone.This mold measures around 3 inches in diameter. Each mini charm measures around .25-.5 inches wide or tall on its longest side.


****Due to each item being handmade, they will have tiny imperfections. I am happy to discuss any problems you may have. Thanks!


****Edges may need to be domed or sanded!


**** This is my original design. Please do not replicate this mold with the intention of selling a similar product. Thank you.