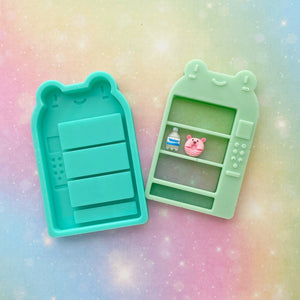 This is a silicone mold for resin casting and crafts. It is reusable, durable, and made from platinum cure silicone.
This mold measures around 4.5 inches tall, and the vending machine measures around 4.25 inches tall and 2.25 inches wide.
***Items in this mold cannot be substituted for items in a different mold in the shop. If you purchase this mold and request a custom in your note to seller, this exact mold will be sent to you.
****Due to each item being handmade, they will have tiny imperfections. I am happy to discuss any problems you may have. Thanks!
****Edges may need to be domed or sanded!
**** This is my original design. Please do not replicate this mold with the intention of selling a similar product. Thank you.